The outrageous number of people killed and injured on American roadways has many interlocking causes — for one extremely specific cause, there's now more than enough empirical evidence to show it's time to act specifically on that cause.
Vehicles manufactured by Kia and by Hyundai are a unique safety threat, due to the fact that they can be so easily stolen and crashed at high speed into pedestrians, cyclists, and seniors in other vehicles. The City of Alameda, if it has not already evaluated doing so, should join other cities across the Bay Area or the country to sue those automakers.
A stolen vehicle is a dangerous vehicle
It's becoming widely known that Kia and Hyundai vehicles are uniquely vulnerable to theft:
[T]he automakers failed to equip several models from 2011 through 2022 with an immobilizer, a common anti-theft device that "prevents most vehicles from being started unless a code is transmitted from the vehicle's smart key."
That failure led to people making videos online showing how they could start engines by using a common USB charging cord or a similar metal object, according to the lawyers. Other design flaws, such as easy access to the ignition assembly, also allowed the vehicles to be stolen in less than 90 seconds
—New York Times article titled Kia and Hyundai to Pay $200 Million to Settle Suit Over Car Thefts from May 18, 2023
What's less widely known is what happens after many these cars are stolen. Note the portions I've bolded in this excerpt from another article:
Some criminologists believe auto theft is what they call a "keystone crime," which encourages and facilitates other crimes. Local news reports in pretty much every affected city refer to crashes, robberies, and deaths involving stolen Kias and Hyundais. In a court filing, Minnesota Attorney General Keith Ellison said that last year, "thefts of Hyundai and Kia vehicles were tied to at least 5 homicides, 13 shootings, 36 robberies, and 265 motor vehicle collisions" and nine people died in reckless driving crashes involving the vehicles, all of which was in Minneapolis alone.
—Vice article titled U.S. Cities Have a Staggering Problem of Kia and Hyundai Thefts. This Data Shows It from September 21, 2023
What's effectively happening is that there is uniquely dangerous class of drivers on American roadways: people who have just stolen a Kia or Hyundai — and who have zero care about the safety of those around them on roadways.
"Joyriding" may be a name for this behavior — although it's not a kind or useful description for the danger, injuries, and deaths left in the wake of some of these situations.
This is a problem in Alameda
This is a problem in Alameda not just because some residents cars have been stolen; it's also a problem due to resulting crashes.
The death of a senior Willow Street and San Antonio Ave in March 2023 was due to a stolen Kia/Hyundai.
It's good that the City of Alameda is using its new Rapid Response after Fatal Crashes program to react to that death: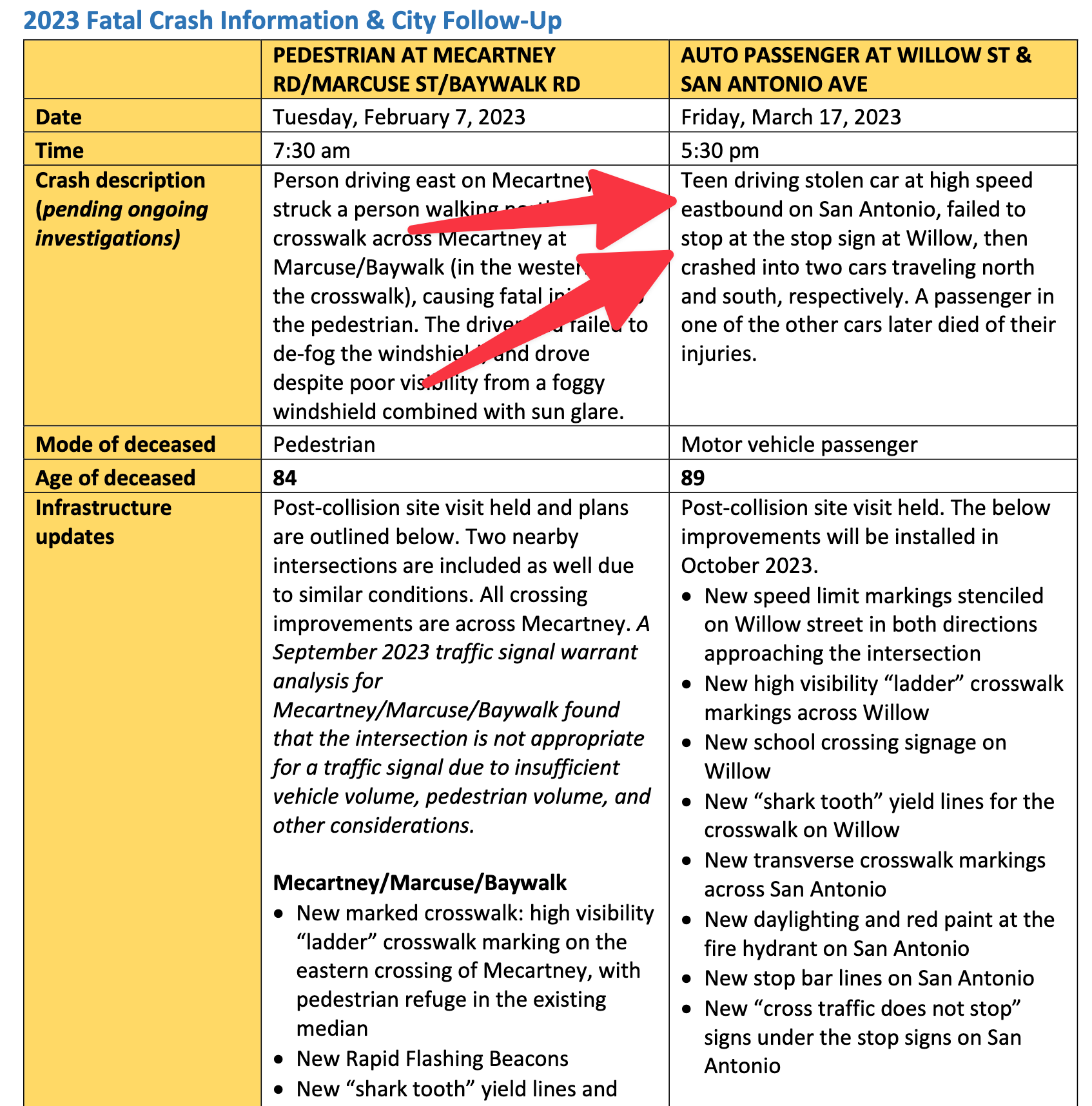 However much as I think engineering changes to roadways are the most important change that the city can make for traffic safety, in this case it's important to also consider the fact that this was a stolen Kia/Hyundai. (My understanding from city staff is that this was a Kia/Hyundai but I can't recall which of the two specific brands the stolen vehicle was.)
To fully respond to this death on Alameda streets, the City of Alameda should join an existing lawsuit or start a new one against Kia/Hyundai.
Almost like how second-hand smoke is ultimately the tobacco industry's problem, this specifically awful driving behavior and the resulting injuries and deaths on American roadways are Kia and Hyundai's responsibility.
This is a problem throughout the Bay Area
Here's just the latest tragedy in Oakland [note my bolding]:
A bystander was killed after having his leg severed in a hit-and-run crash that occurred Wednesday night in Oakland, police confirmed. Officers with the Oakland Police Department responded to the area of High Street and International Boulevard just before 10:30 p.m. to investigate a report of a hit-and-run crash with major injuries.
At the scene, officers located a victim whose leg was completely severed as a result of the collision. The victim was transported to the hospital where he succumbed to his injuries.
OPD described the victim as a 40-year-old Hispanic man. His identity is being withheld, pending next of kin.
Further investigation revealed that a stolen Kia Sorento SUV was heading east on the 4200 block of International at high speed when it crashed into a Pontiac Vibe.
—KRON4 article from October 26, 2023
And the latest tragedy in San Jose [again, note my bolding]:
A pregnant woman suffered fatal injuries when her car was struck by a stolen vehicle on Blossom Hill Road in San Jose, police said. Her baby was delivered through an emergency surgery and died Wednesday night, a family friend confirmed to KRON4.
The deadly crash happened at 8:42 p.m. Tuesday. A stolen 2013 white Hyundai sedan collided with the woman's 2008 black Nissan sedan at the intersection of Winfield Boulevard and Blossom Hill Road.
—KRON4 article from October 25, 2023
A lawsuit would complement existing Vision Zero strategies
All three cities of Oakland, San Jose, and Alameda have Vision Zero programs that are strategically working to improve traffic safety. But the threat posed by drivers of stolen Kias and Hyundais adds a specific new form of danger to this mix.
"Quick build" infrastructure improvements can do many things (and they are worthwhile, as the City of Alameda is implementing through its Rapid Response after Fatal Crashes program) but they cannot effectively stop drivers of stolen cars who have zero care or qualms about crashing into obstacles or others. Additional safety mitigations through engineering, enforcement, and education are also still useful — but may only do so much against the rapid spike of this trend: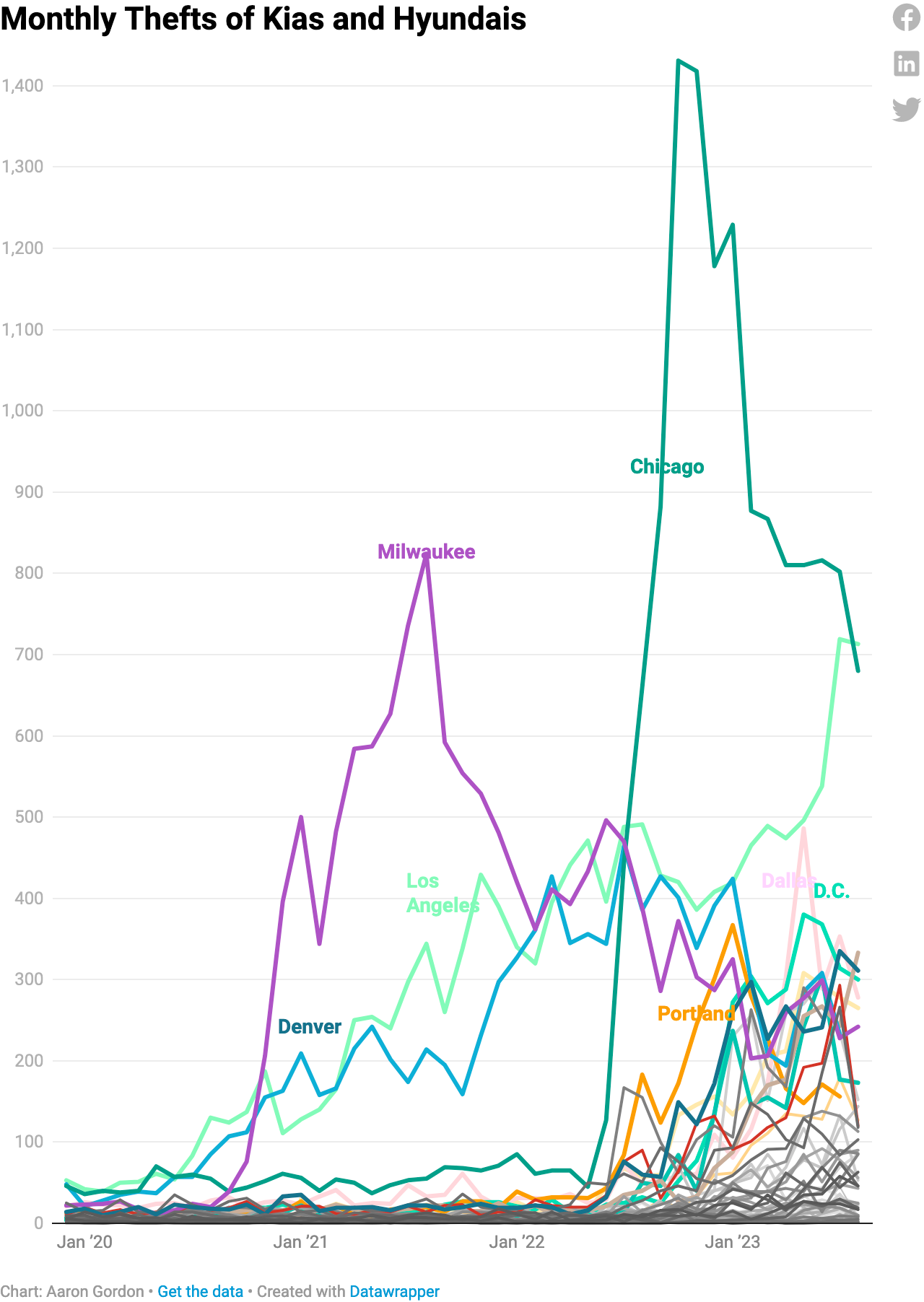 For this very specific source of traffic danger and violence at this specific point in time on Bay Area roadways, there is a specific set of companies responsible for causing the problem — and now responsible for helping to solve the problem: Kia and Hyundai.
Assuming Alameda's City Attorney office has not already looked into this topic, I'd strongly suggest they explore ways to join with our neighboring cities throughout the Bay Area and sue those automakers for damages on behalf of those killed or injured and to bring further attention and funding to improve safety for all on our streets.
Stolen Kia and Hyundai vehicles are a unique threat to traffic safety