Alameda City Council takes a field trip to Clement Ave and Tilden Way — and gets ready to go around a (modern) roundabout again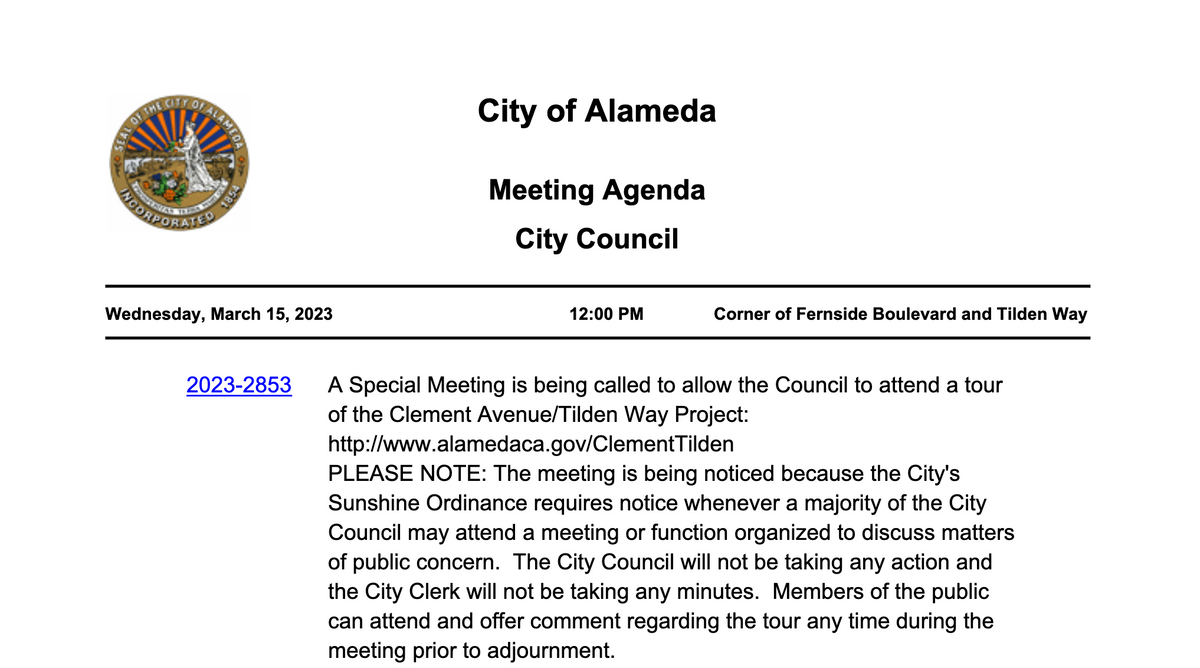 ❗
tl;dr
If you like to walk, bike, or just not get squashed by drivers, please come join an in-field meeting of the Alameda City Council. Wednesday, March 15 at noon, beginning at
the corner of Fernside Blvd. and Tilden Way
.
A local blogger predicted that the proposed redesign of Clement Ave/Tilden Way would move ahead at Alameda City Council with lots of noise but few additional steps.
I was wrong. City staff recently announced some extra steps for this proposed project, including a field trip and a full hearing by City Council.
The extra steps will add a bit of delay. (A delay that isn't entirely helpful given that this project is fully funded by Alameda County, and that money comes with a "use by" deadline.)
On the plus side, the extra steps will provide more means of public participation. Extended planning processes have many advantages — as long as they are structured and managed by elected officials and staff in a way that leads to a productive endpoint.
🤦🏼‍♂️
Having this as a full regular item on the agenda City Council's March 21, 2023 meeting also means that Councilmember Herrera Spencer will be fully entitled to rant against proven traffic safety measures — as is her perogative as an elected official — but will not get the pleasure of pulling it from the consent calendar. More seriously, it means that enough time will be alloted in advance to have a full presentation and systematic summary of the proposed project and public engagement.
Modern roundabouts
The extra steps are also especially useful for this project, given that the city does not yet have any "modern roundabouts" within city limits. (There are other roundabouts in planning — more on that in a minute.)
These are called modern roundabouts because they are different than older "traffic circles" as American tourists may know from visiting some European countries. The differences are in the physical design of the roadway and also in the behaviors expected of roadway users: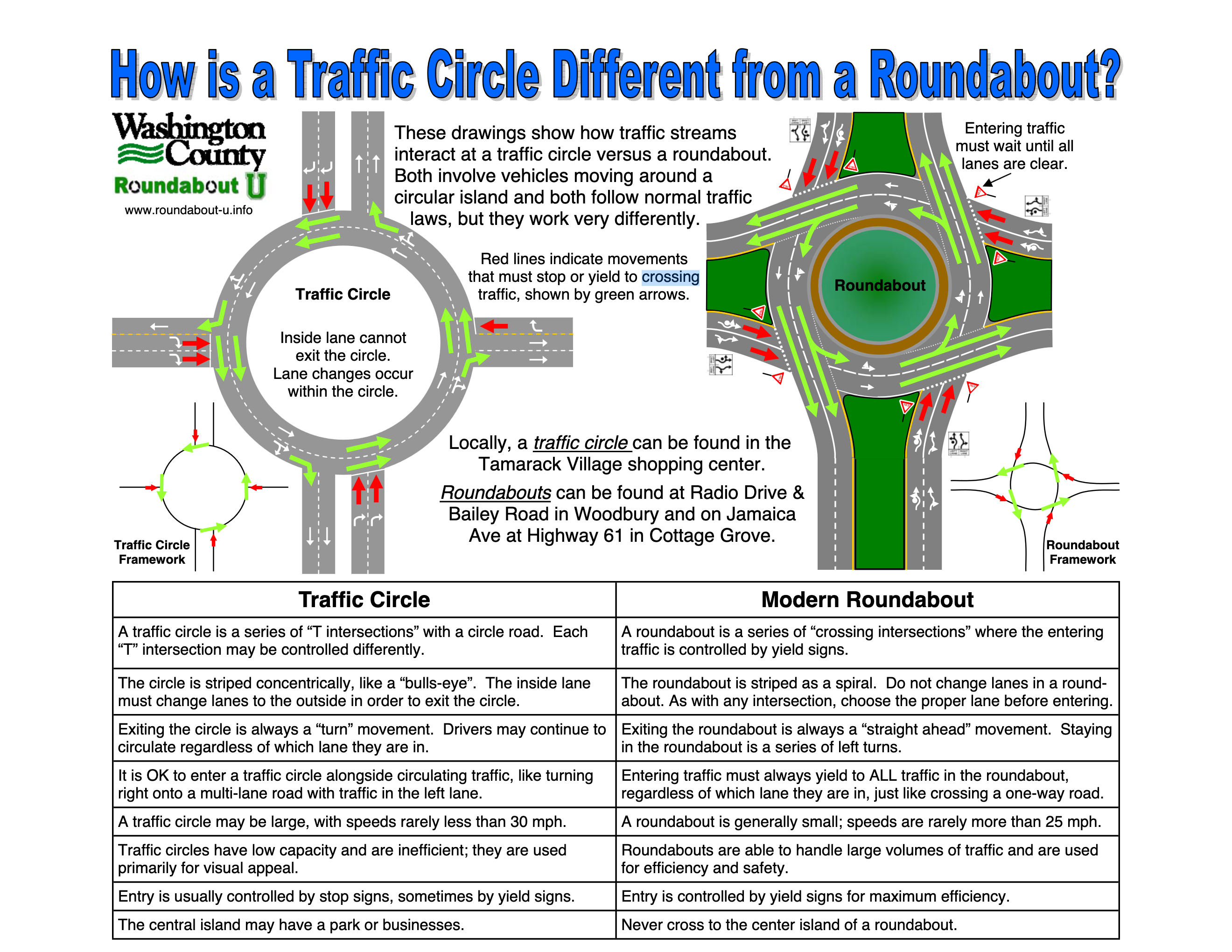 Modern roundabouts are also fundamentally different than an older "rotary" in New England where drivers have to hit the gas and hold on to their Dunkin' iced coffee while they swerve into and out of the rotary: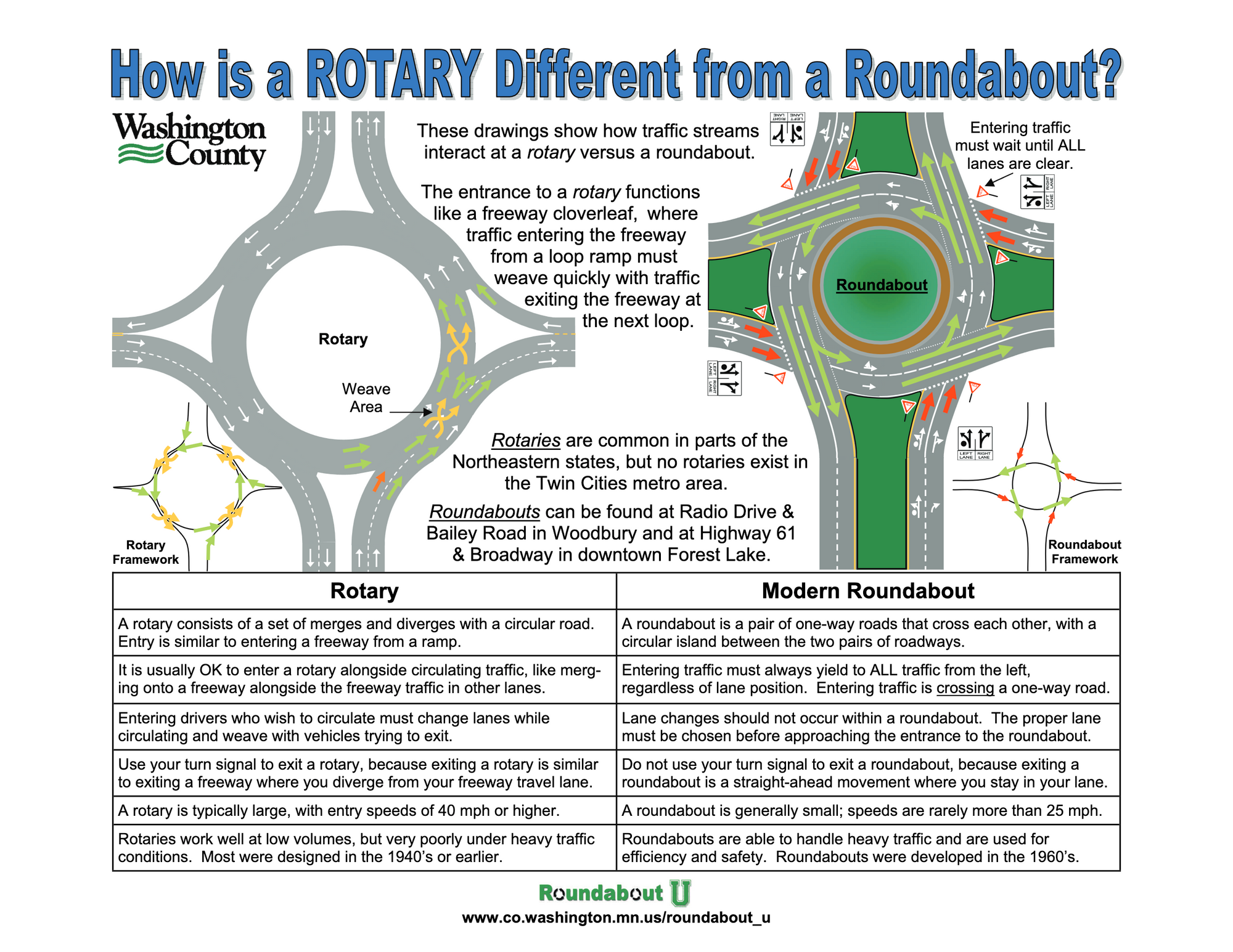 As modern roundabouts are intentionally different in the behaviors they expect of drivers, pedestrians, and cyclists, it's reasonable that people who have never traversed this type of intersection may have questions.
In particular, pedestrians with low or no vision — who have specific strategies for using crosswalks at orthogonal intersections — may have concerns about how they'll traverse a modern roundabout in safety and with confidence.
City staff and consultants have been hard at work behind the scenes taking feedback and providing education. The Alameda (city) Commission on Persons with Disabilities received a report and heard input on the Clement/Tilden project in December. The city is also now receiving ongoing support from the leading American engineering firm for modern roundabouts, and together staff and consultants have assessed possible sites for modern roundabouts throughout the city.
The Clement/Tilden project is a great opportunity to invite City Council and the public on a field trip to talk more concretely about modern roundabouts — and the other features of the overall project design design. (More on one of the other key features of the design — the Clement "punch through" — at the end of this post.)
Around the roundabout — again
Tilden/Fernside/Blanding is not the first modern roundabout to enter the design phase.
Central Avenue has four roundabouts in design. The proposed modern roundabout at Central/Encinal/Sherman turned into a minor mess at its City Council hearing on April 20, 2021, with Mayor Ezzy Ashcraft and Councilmembers Herrera Spencer and Daysog all waving their hands and gesticulating to show how they thought auto traffic should flow. Councilmember Herrera Spencer repeatedly tried to question the entire premise of the design by demanding a "video simulation." Concerns between Gold Coast residents who just wanted to drive their cars straight through the existing intersection were jumpled with concerned from vision-impaired pedestrians. And Mayor Ezzy Ashcraft directed staff and consultants to switch from the proposed design to one of the alternatives that had been considered but ranked low by staff and consultant's analysis.
Fortunately this haphazard decisionmaking was limited to one intersection in the overall project that will improve multiple miles of Central Ave. However, transportation planning and design should not be done by elected officials literally waving with their arms. It's great that city staff and consultants have been working dilligently over the past two years so that Alameda can be more systematic in the way that this next modern roundabout in the Clement/Tilden project is designed and adopted.
More roundabout resources
Mayor Ezzy Ashcraft and I both read this article that appeared on the front page of the Sunday New York Times a few months after the Central/Encinal/Sherman hand-waving meeting: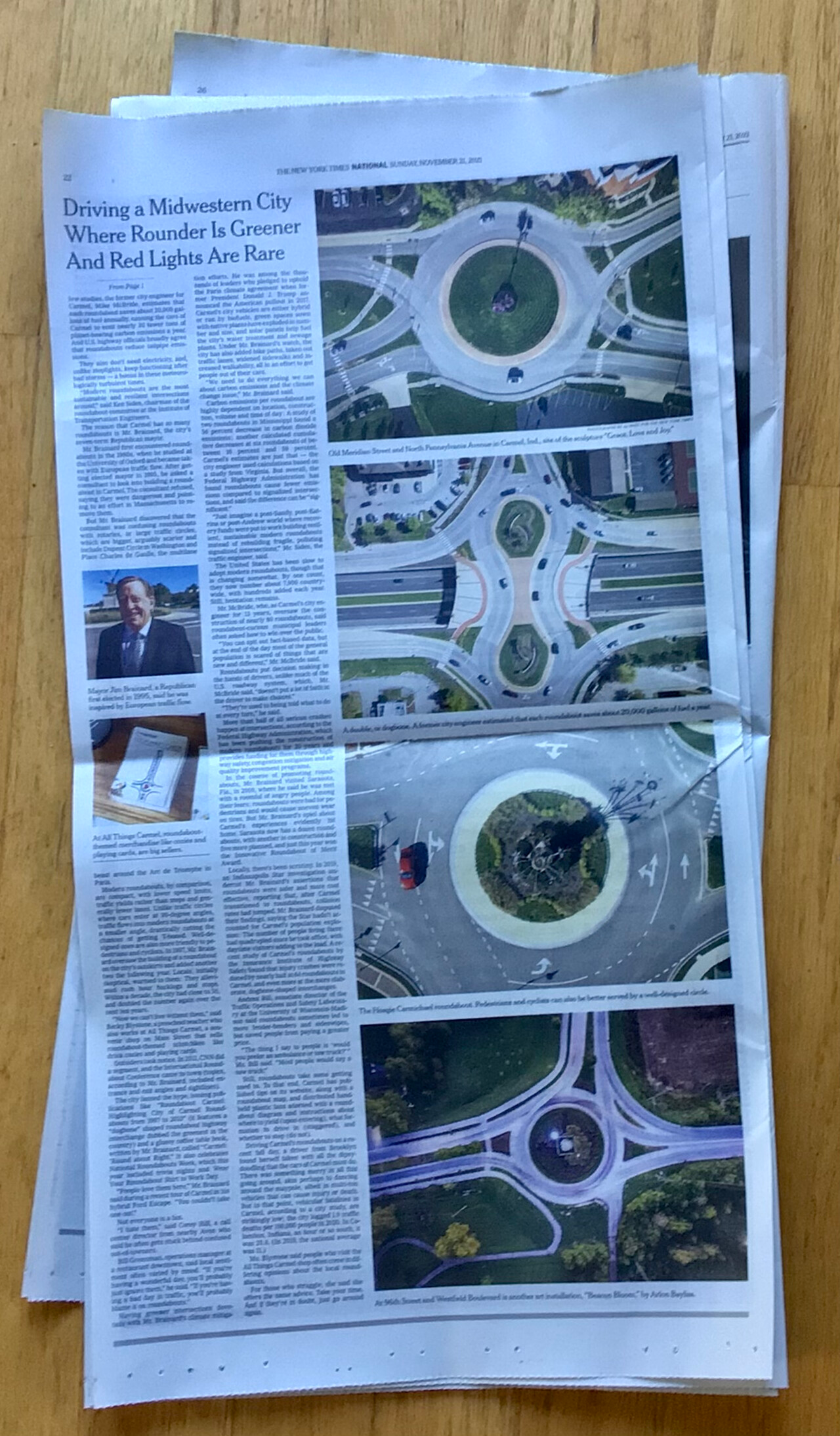 It's a fine overview of the benefits of the modern roundabouts in Carmel, Indiana, where they've built 140 of them. But I do want to temper those benefits with some qualifications — modern roundabouts are good ingredients to combine with other tools to improve transportation and urban design:
Modern roundabouts a very useful improvement for traffic safety: With so many deaths and serious injuries on American roadways, it's imperative that we reduce the number of drivers crashing into other cars, pedestrians, and cyclists at high speed.
However, turning a bunch of intersections into modern roundabouts doesn't necessarily make a place more lively at street level. Most of Alameda Island has land-use patterns and densities that support walkable and lively places. But portions of Alameda Point and Bay Farm lack a critical mass of destinations, residents, and reasons to go from one place to another. Roundabouts don't hinder — and yet they also don't contribute toward "activating" a place.
While it's true that modern roundabouts may decrease carbon emissions by idling gas-powered vehicles, there are also many other ways at the local, state, and federal level to reduce carbon emissions — and some of those other "levers" will yield better progress in emission reductions.
Want to see how real modern roundabouts look in the Bay Area? The Metropolitan Transportation Commission has a public archive of videos taken by aerial drone of modern roundabouts in action.
⭕
Another variety of roundabout is the
"mini roundabout" or "neighborhood traffic circle."
In contrast with a modern roundabout that is a replacement to an entire orthogonal intersection, a neighorhood traffic circle is a traffic-calming feature added into the middle of an existing intersection. These will be important features for making some of the Slow Streets permanent as they are transitioned into Neighborhood Greenways. I'm not sure why we haven't yet seen these deployed around Alameda using "quick build" materials... but that's another topic for another day.
Touring Clement and Tilden
An in-field tour of the project area will also be a useful opportunity to talk about the pros and cons of staff's proposal to connect Clement Ave all the way east to Tilden Way: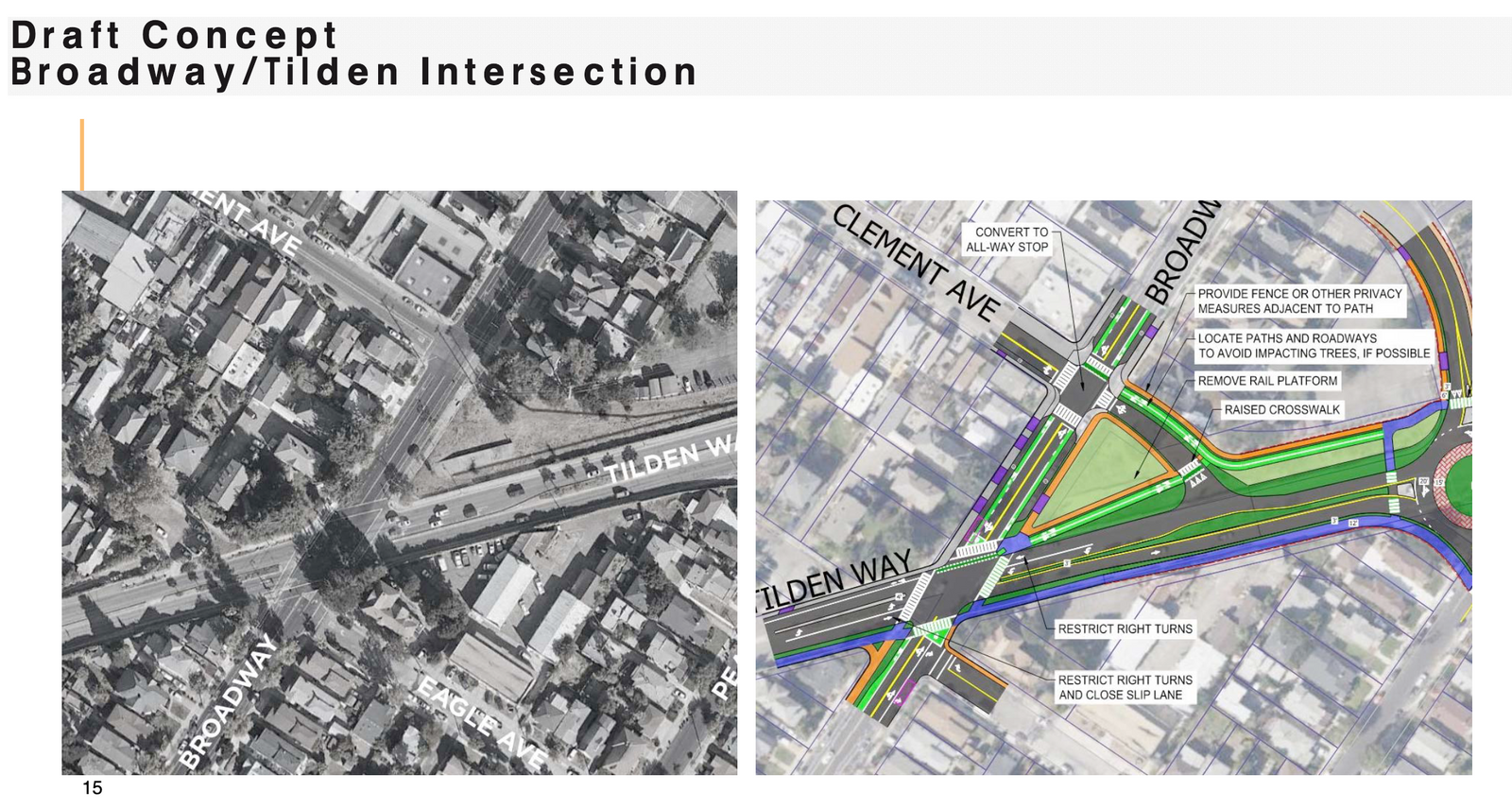 I had my doubts at first — it is nice to have more space for parks and people, less space for pavements and cars. But I've come to see the advantages of this proposal in terms of spreading out auto traffic — and especially spreading out truck traffic.
There is quite a lot of open land besides this segment. So much open land that Alameda's Recreation and Parks Department will handle planning for the new potential park site along Tilden Way.
It will be useful for City Council and members of the public to get a sense of the scale of the location. Less waving hands on a Zoom screen — more pointing out features close and far in the real world.
Baring any last minute conflicts, I'm looking forward to joining this tour — and I hope others who care about walking, biking, and not getting squashed by cars or trucks will join as well.