Bridging gaps in the Cross Alameda Trail with a new transportation project and a new housing project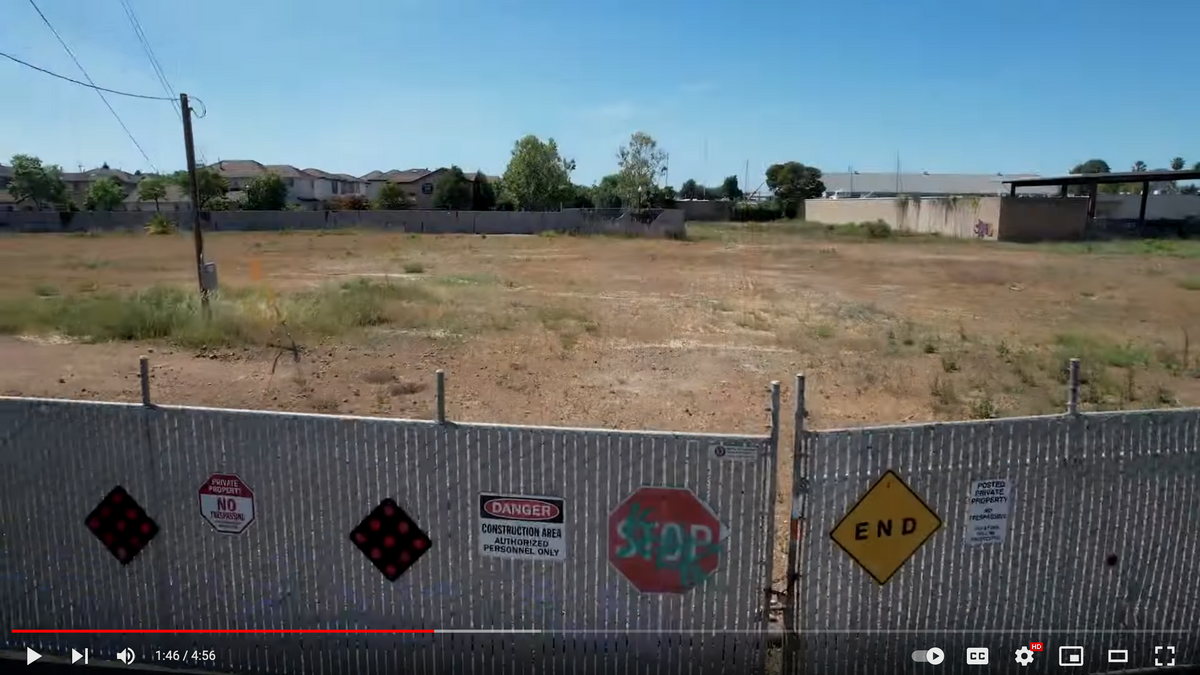 Maurice Ramirez, a talented photographer working for City of Alameda among other clients, took a journey to film the Cross Alameda Trail (or "CAT" for short). While the CAT wasn't completed at the time of his trip last year, he succeeded in filming the entire corridor. Watch if you haven't already:
There are two stretches along the corridor where foot and drone and creativity were necessary. Both of those gaps in the CAT are now closer to completion as of January and February of 2023.
The Clement/Tilden gap is being bridged with a transportation project and the Clement/Grand gap is being bridged with a housing project. Both projects will be helpful additions for travelers of all modes along the CAT. Both projects are also "barometers" of local politics in 2023 in terms of engaging with change vs. opposing any and all change. The Clement/Grand project is also an example of the pros and cons of the townhome format for new multi-family housing in Alameda.

Clement/Tilden
Between Tilden Way and Clement Avenue currently sits fenced off land originally owned by the Southern Pacific railroad: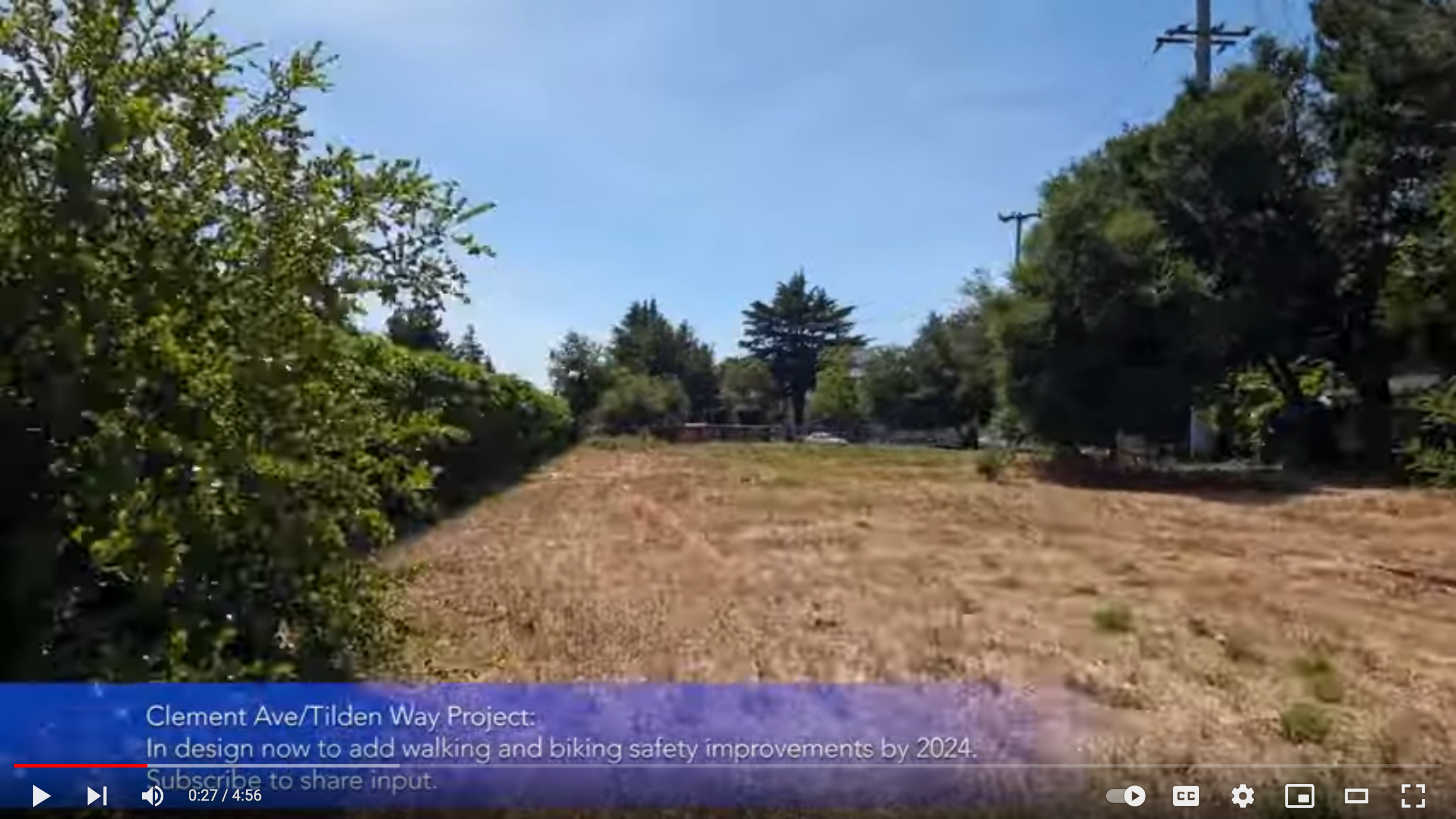 At January's Alameda (city) Transportation Commission, city staff and consultants presented plans to redesign this area where drivers, cyclists, and pedestrians from Oakland enter the street grid of Alameda. It's also the first stretch of the CAT: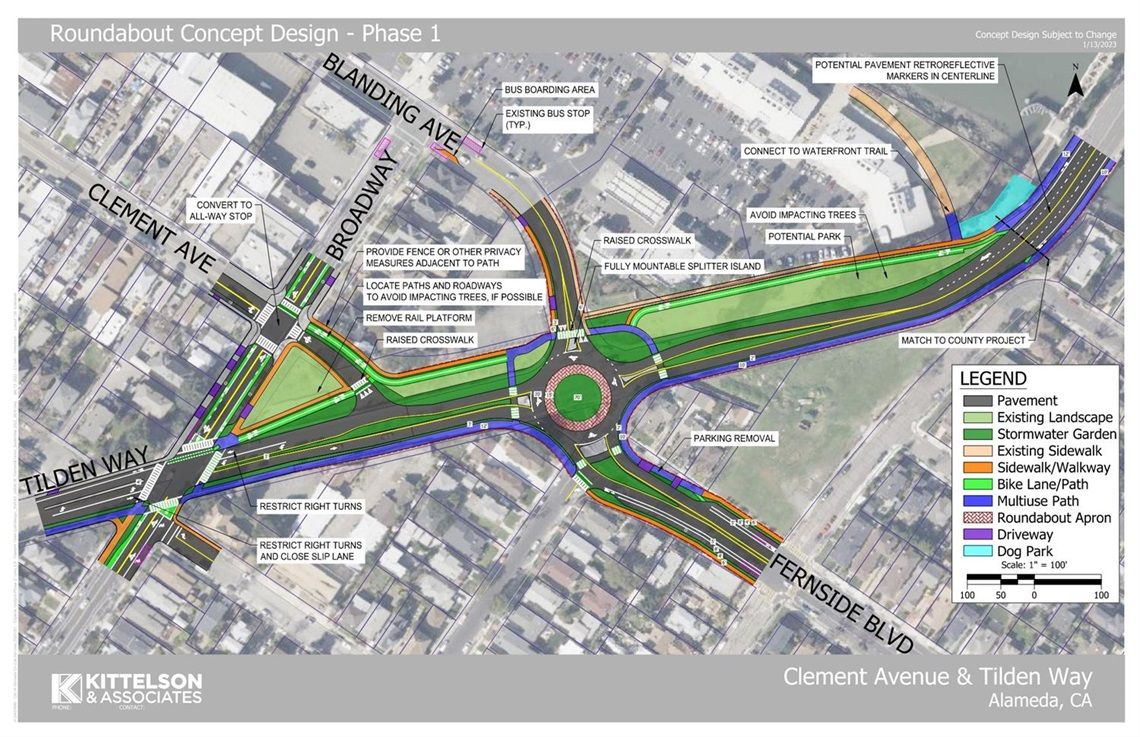 😁
I shared
thoughts on the Clement/Tilden designs in an earlier post
. (I appreciated when one of the city's experienced staffers called me out by name at the Transportation Commission meeting and said that some of my suggestions represented "scope creep." In my day job, the projects are different but my responsibility is similar: to keep projects within schedules and budgets. When I'm just wearing the hat of a local involved citizen and get to suggest improvements that are ideal but perhaps also impractical, it sure is a lot more fun! Thanks for doing the hard work so well, City of Alameda transportation staffers.
The city Transportation Commission unanimously voted to recommend these plans to City Council (which is the body that actually approves transportation plans and related contracts).
According to the project website, City Council is schedule to hear the Clement/Tilden project on Tuesday, March 7.
According to my guess, there will be some gnashing of teeth: an owner of neighboring properties will perhaps call again to complain about removal of on-street parking; Vice Mayor Daysog will likely hem and haw; and Councilmember Trish Herrera Spencer will most certainly argue with the consulting traffic engineers about the safety of modern roundabouts, argue with the city's professional transportation planners and claim that all their so-called safety improvements are in fact the cause of fatal crashes. (More on when Herrera Spencer does and does not decide to give diatribe in a minute.)
Leaving the noise aside, the funding from the county has been secured, public outreach has been thorough, this is a well designed project, and it should be approved to move forward by a majority of City Council.
Clement/Grand
The other impediment to traveling the length of the CAT is the fenced off site of a former Penzoil chemical production facility. There's such a strong "desire line" for travelers wanting to continue straight through this site: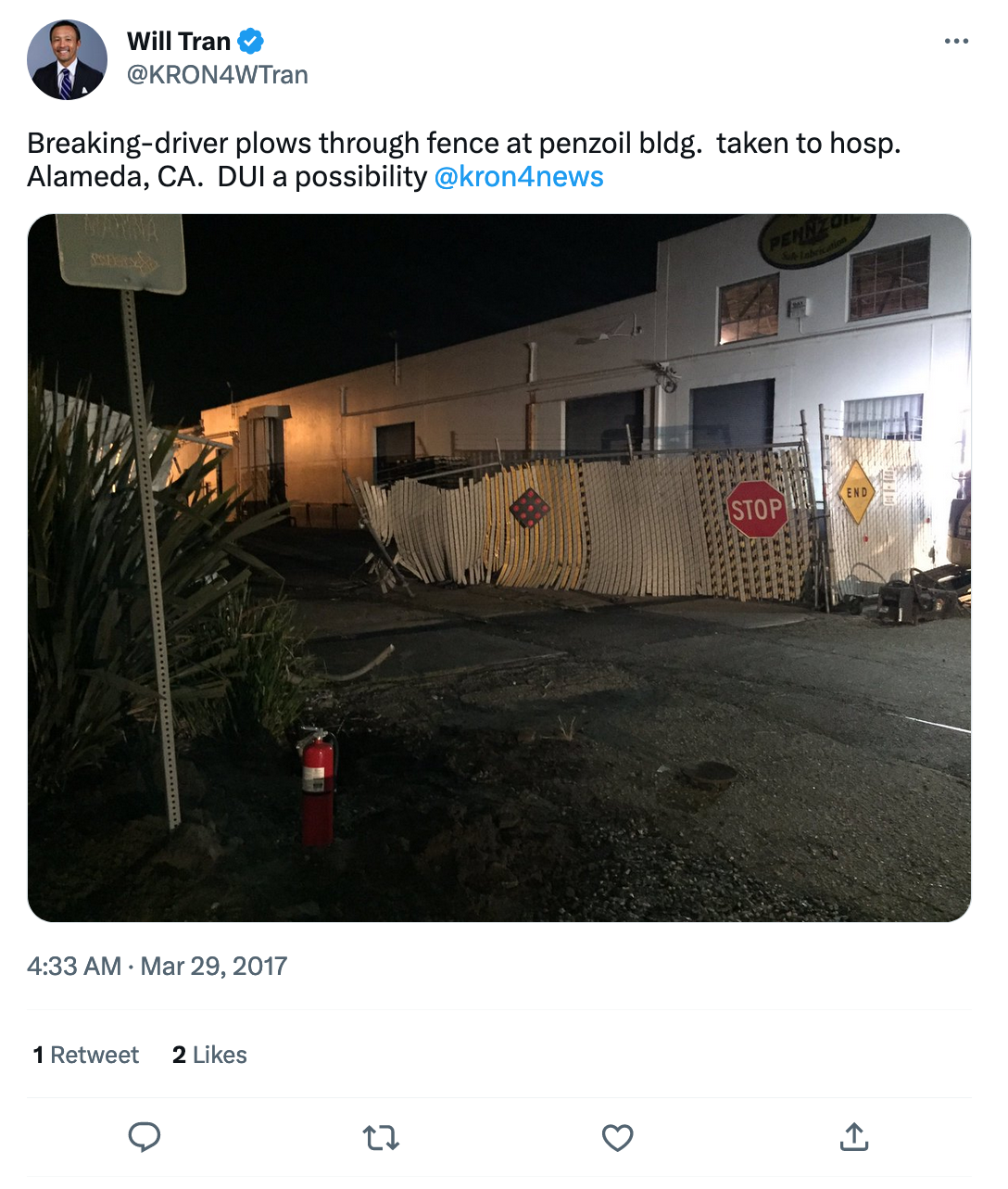 Ramiriz is more respectful to the fence and uses a drone to hop over it: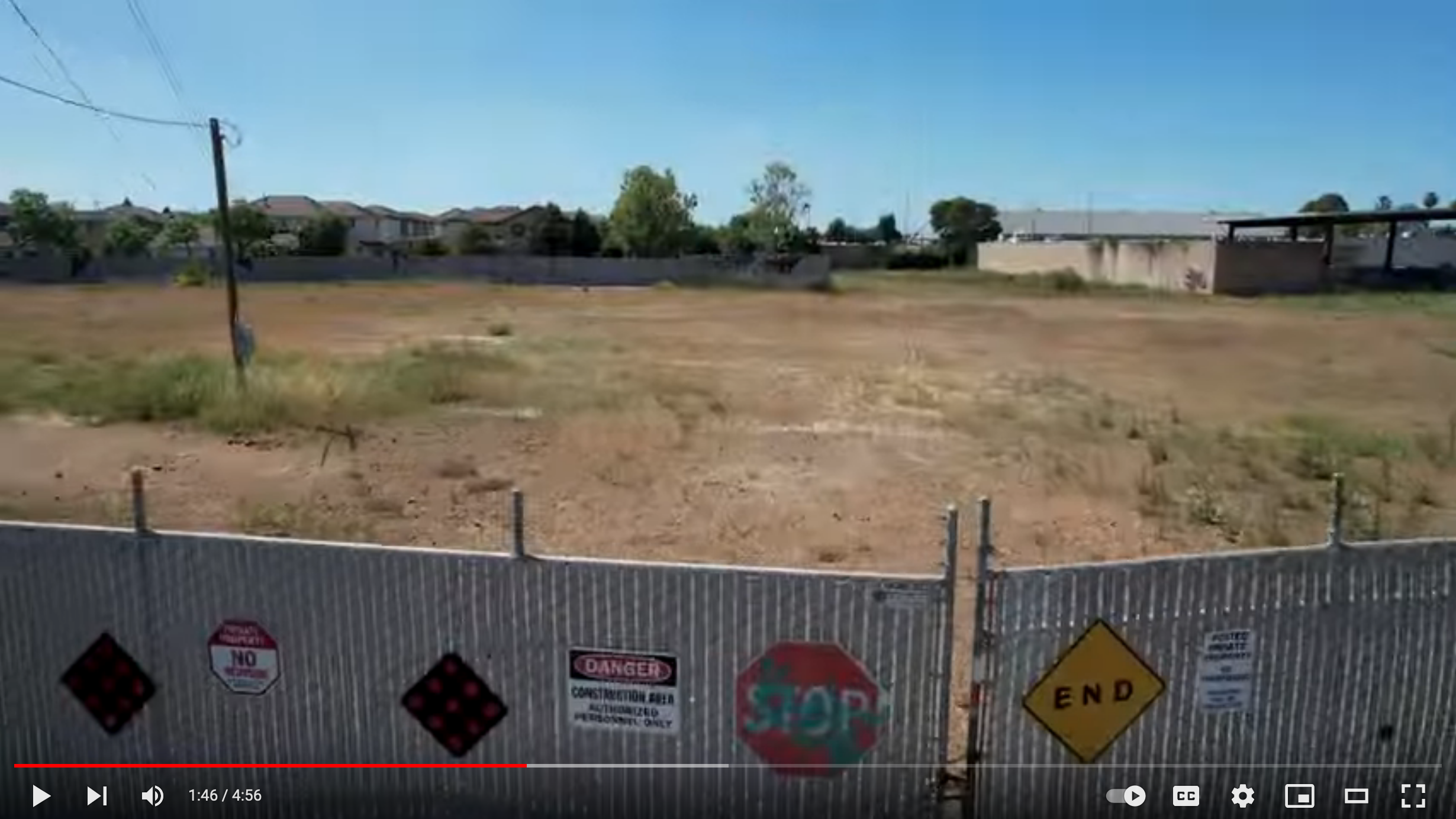 The site has been remediated and late last year developers submitted plans to build housing. Their plans include extending Clement Street through the parcel: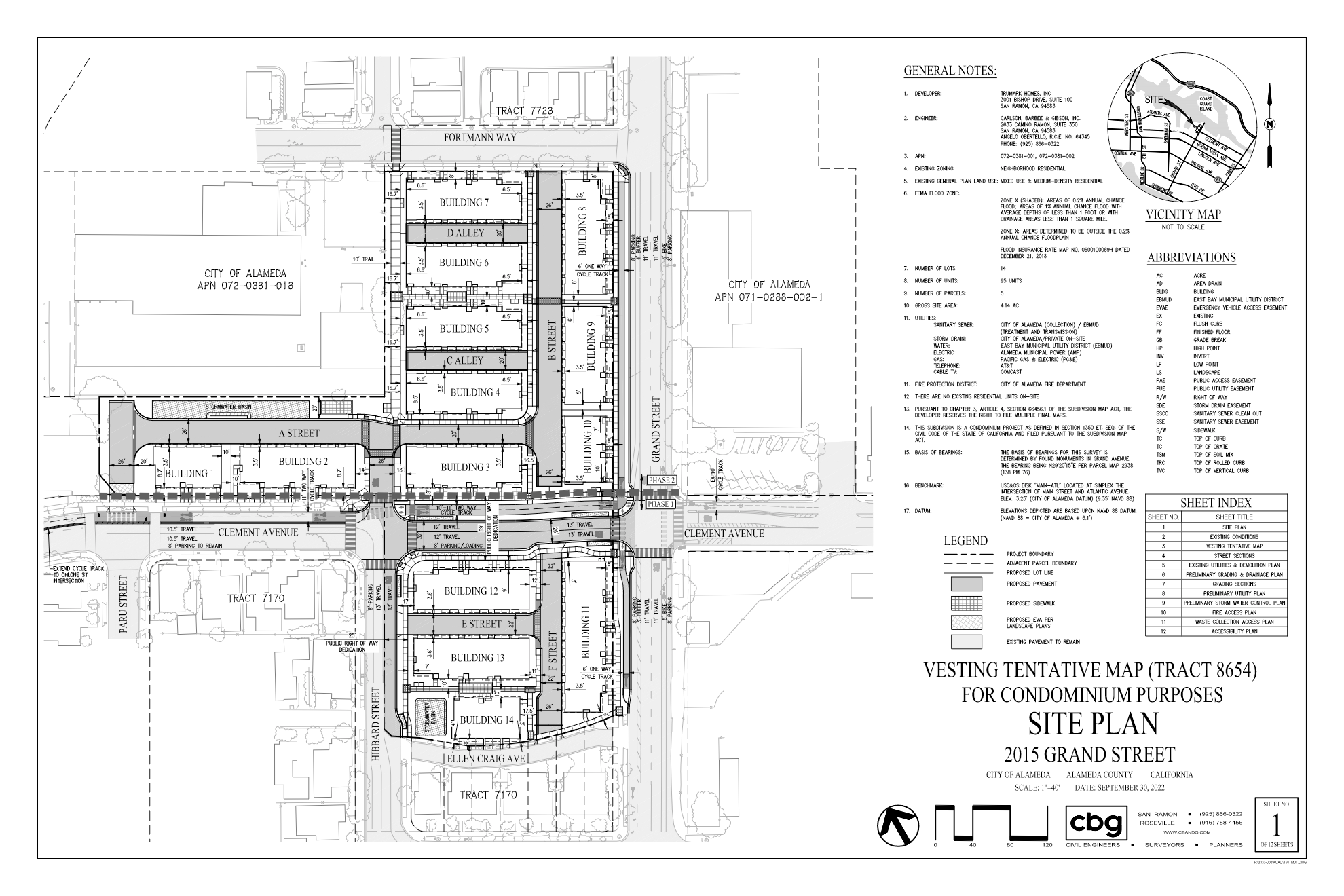 At its February 7 meeting, City Council approved the plans — and so this gap in the CAT will soon be closed.
I wonder if 2015 Grand Street can also serve as a barometer: a measure of what format of housing is proposed by developers and how those proposals are adopted by Alameda's current City Council. Let's start with the latter.
Approval
2015 Grand Street was one of six items on the consent calendar at City Council's February 7 meeting. No Councilmember pulled it, and it so was passed when the consent calendar was approved.
🗓️
The consent calendar is where staff place items that are not expected to require much debate before adoption. Councilmembers can optionally request to "pull" items from the consent calendar for discussion and an individual vote — otherwise the Council takes a single vote to adopt all items not pulled from on the consent calendar.
What a change from just months ago! Last year, Councilmembers Herrera Spencer and Daysog could be counted on to pull any and all housing-related items. Their goals were twofold:
to symbolically vote against progress, even just on procedural matters proposed by staff
to lengthen City Council meetings with extra debate at the beginning in order to delay hearing of items later in the agenda, particularly important items that they hoped to defer to late at night when less committed members of the public might no longer be listening or to defer those items to future meetings when the non-usual-suspects might forget to return
Councilmember Herrera Spencer did pull half the items from the consent calendar (three of six). She did rant against traffic safety in the context of a minor procedural item for the already approved Central Avenue Safety Project (as I imagine she'll do again when the Clement/Tilden project comes to City Council). And yet she didn't pull 2015 Grand Street from the consent calendar.
Why? In her role as an elected official, she is shameless. Sitting on the dais, she is glad to waste people's time. She almost certainly didn't care about a letter  in the correspondence packet from a YIMBY legal group referencing Senate Bill 330 and threatening to sue the city it denied the project application. It must be that she doesn't see benefit in loudly opposing the 2015 Grand Street project.
Now that Alameda has successfully passed the political stress test of adopting a compliant housing element, the reactionaries apparently don't see ways to draw their political energy from opposing multi-family housing projects:
Alameda Architectural Preservation Society (AAPS) sent in an extremely detailed letter about the species and locations of street trees (along with a scan of a hard copy of the city's master plan for street trees, filling page after page in the PDF of public correspondence). But in a sharp contrast with their many letters throughout the housing element process, AAPS made no attempt this time to argue against the actual housing units proposed.
Alameda Citizens Task Force (ACT) didn't comment on the project. Last I heard, they had threatened repeatedly to sue the City of Alameda in an attempt to revert the housing element and associated zoning amendments, but at least to my knowledge they have not been heard from since.
The small new group that calls itself the United Democrats of Alameda held an event arguing against the housing element days before its adoption but have had nothing to say about housing since. They've moved on to other topics to react against.
This isn't a honeymoon. The correspondence packet for the 2015 Grand Street item included letters from nearby residents arguing against more housing for new neighbors. (More on the correspondence from neighbors in a minute.) But neither Trish Herrera Spencer nor Tony Daysog decided it was worth pulling the item from the consent calendar to lend their voices to those arguments against 2015 Grand Street. That's a contrast from just a few months ago when every single housing-related agenda item was a lightning rod for reactionaries.
Access
Now to considering 2015 Grand Street as measure of what format of housing is proposed by developers.
Almost all the units are townhomes over private auto garages. This format of housing does have the benefit of higher density than single-family houses, but it also comes with downsides — especially downsides concerning internal access by stairs and external access for autos.
Townhomes over garages do not meet the city's goals for enabling people in wheelchairs or with other mobility constraints to visit or reside:
In a townhome development, parking and nominal living space typically occupy the ground floor, and the main living space (i.e., common rooms, bedrooms and bathrooms) is often located on the upper floors.  By design, townhome developments are unable to meet the City's Universal Residential Design Ordinance requirements.  Of the 90 townhome units, 37% (34 units) meet the visitability standards where 100% is required, and 5.5% (5 units) meet the universal design requirements where 30% (27 units) is required.  The five units that meet the universal design requirements consist of the five ADUs located on the ground floor of five townhomes.   Furthermore, despite the site being outside of the flood plain, the project will also raise the site to an elevation out of the 100-year floodplain, as called for the City's Climate Action and Resiliency Plan (CARP).  As a result, the finished floor height of most buildings will be several feet higher than the public right of way, necessitating at least one step to access the main entrance of the units.  Due to the constrained nature of the site the buildings cannot be setback further from the public right of way to allow space for ADA compliant wheelchair ramps to each unit.  Therefore, the project requires this waiver to the UDO requirements in order to be developed with the proposed affordable units.
—staff report in the December 12, 2022 Planning Board meeting
For older residents looking to potentially move from single-family homes to smaller multi-family units without leaving Alameda, this format of townhouse with living quarters above parking does not work. For families with young children, the arrangements of bedrooms can also be subpar.
Instead of having the option of expanding flats across a floor, the designers of this housing orient each unit vertically — the parking garage is the anchor for the entire layout. This layout also imposes a minimum size on each housing unit, as each townhouse goes with each garage. The 2015 Grand plans do allow for a handful ADUs (accessory dwelling units) but it's telling that those are optional add-ons rather than units sold on their own.
Providing garages on the ground floor of each unit also imposes external constraints. An entire side of each building needs to be devoted to garage doors at ground level: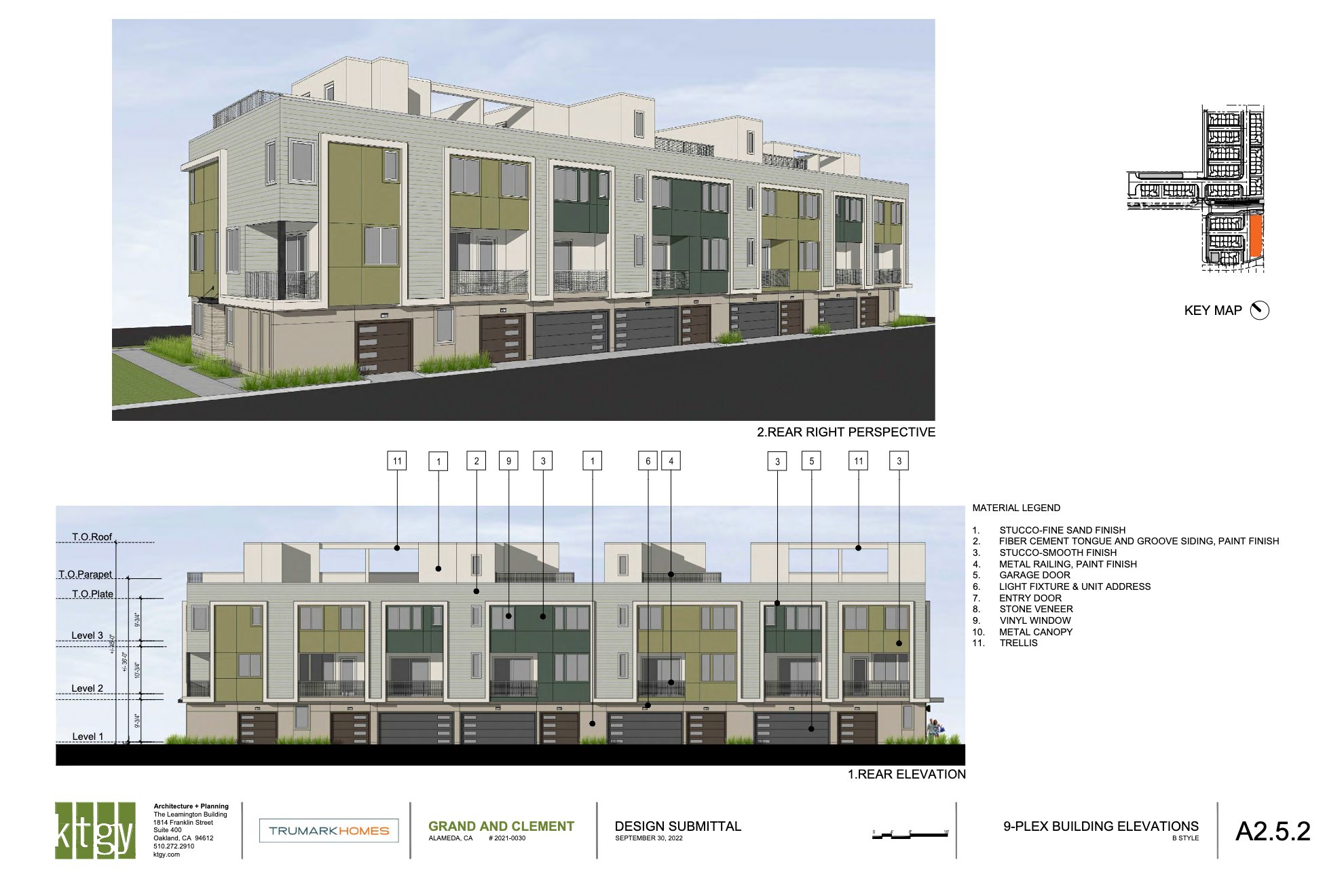 And each of those garages needs to be reachable via a paved access road.
What is being traded is internal accessibility for people in wheelchairs for external accessibility for drivers in automobiles.
It's to everyone's benefit that a portion of the land is being dedicated to extending Clement Avenue through the former Penzoil site. Sometimes we don't need roadway and more pavement — but in the case of "punching through" Clement Avenue, this is a net benefit. But it's less of a benefit that all of those townhouse garages need access roads. Look at how much of the entire site is being dedicated to A Street and B Street and C Alley and D Alley and E Street in the site plan: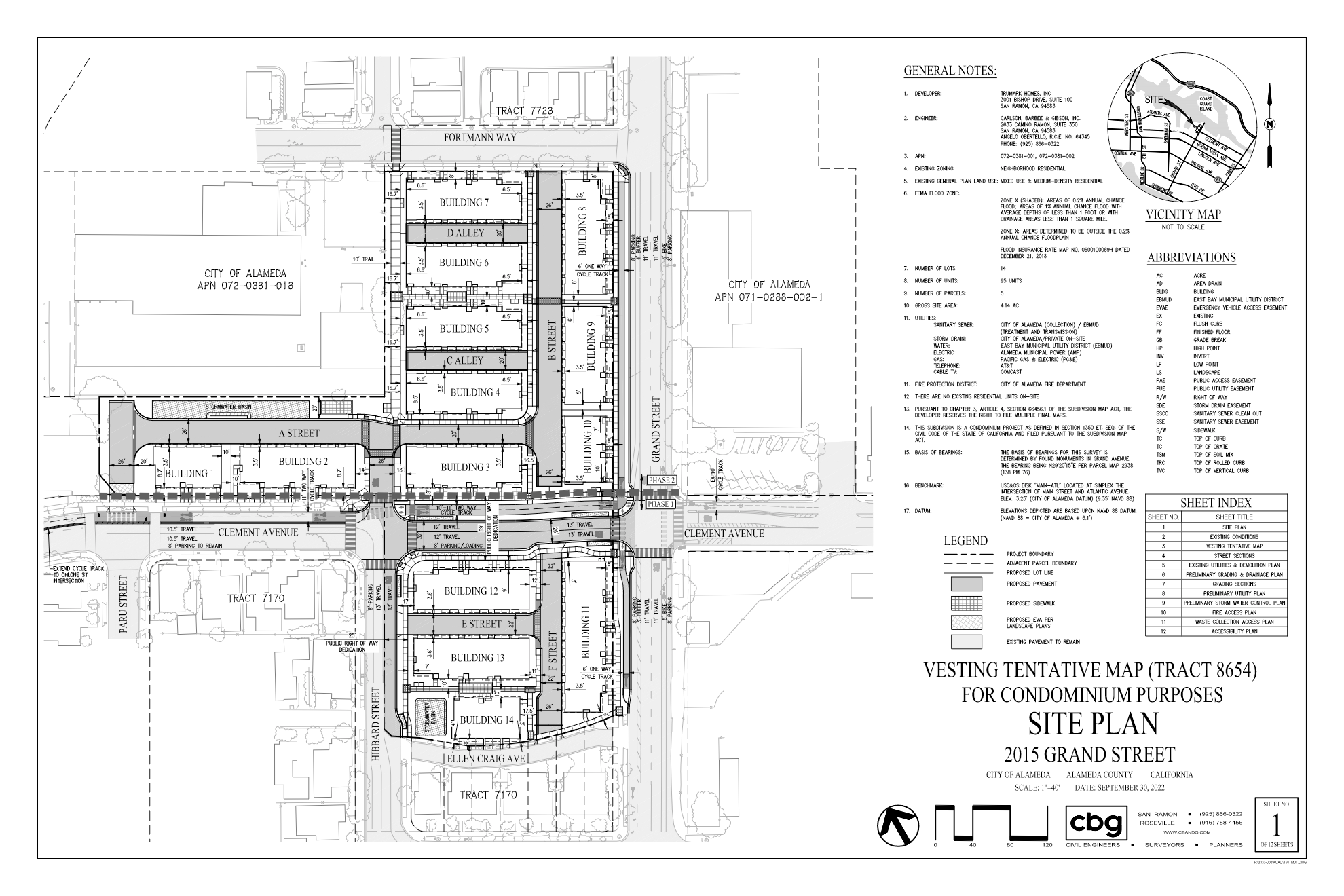 This land is very valuable. Dedicating so much of it to private access roadways increases the cost of each housing unit.
Just as each building is internally oriented around the garages, the overall site plan is oriented around the access roads. Car is king.
Some of the neighbors opposing this project via email highlight these constraints — that is, they highlight these constraints by misunderstanding them. At the same time as being concerned that this new development will not provide sufficient new off-street parking, the existing residents are disappointed that the plans do not include space for a public park.
Folks, there's no room for a park because all that land is going to access driveways. You can't have it both ways.
Now add in the additional argument made in some of the letters that these new housing units are not affordable. Folks, they aren't cheap because the land isn't cheap — that is just a given. (That's why city isn't going to buy the site and turn it all into a park, as some neighbors proposed.) But it's also the townhouse format that always includes a "bundled" private off street garage, effectively has a minimum unit size above the garage, and includes the cost of the driveway — this format imposes constraints and costs.
Yes, townhouses are an improvement over the economics and the physical limitations of single-family houses — which truly are luxury housing. But townhouses could be so much better. That's why I'm harping so much about the downsides of the internal layout for seniors and families — because townhouses-over-garages can't be cheap but also can't meet ideal requirements for many potential buyers.
2015 Grand Street is a welcome addition to Alameda. The project will help to complete the CAT. It's also always useful to add more multifamily housing units to Alameda' stock. But it could be better.
Across Alameda by all modes
The CAT is getting closer to completion. I look forward to riding it by bike and walking it by foot. And even though my focus is on those modes of transport, I think we should also appreciate how improvements to the street grid at Clement/Tilden and Clement/Grand will also help for autos and trucks. There will be no more need to crash through the fence at Clement/Grand. Overall traffic flow will likely be smoother, steadier, and safer for all modes of tranport across the northern waterfront side of Alameda Island.